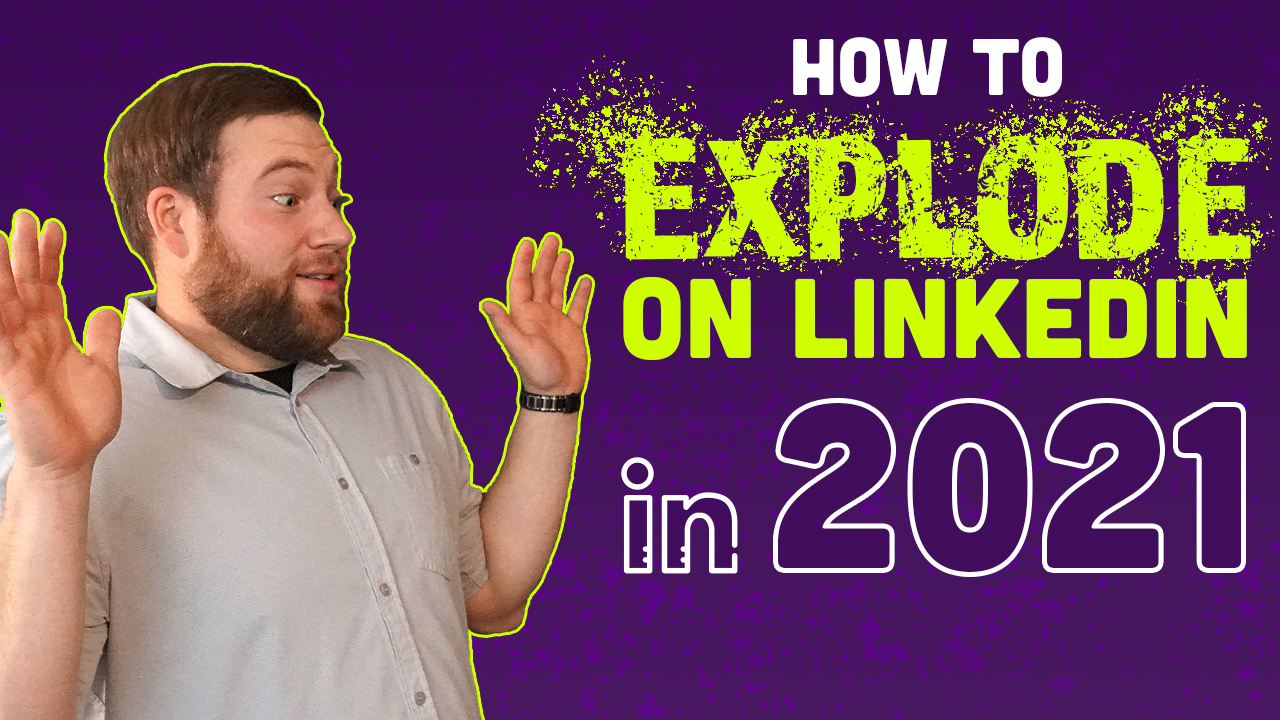 VIDEO: How to Explode on LinkedIn in 2021
Please Like and Subscribe!
If you like this video, hit like, then leave a comment and let us know what part you liked most. Also, subscribe to our Youtube channel and click the bell to get notified when we release new videos. We have a great one coming next week on Monday at 9am EST. I look forward to seeing you all on the next Marketing Tip Monday. See ya!
LinkedIn is a powerful tool that can grow your business in 2021. But to get the biggest bang for your buck you HAVE to use it correctly. Today I share the basics and even some secrets that I've learned along the way.
If you're not on LinkedIn already you're missing the boat! With over 310 million active subscribers monthly, there are a ton of people utilizing LinkedIn. More importantly, those people are business owners, decision-makers, and probably your target market. In short, the people you need to get in touch with.
Why LinkedIn?
LinkedIn is the "land of opportunity". There is tremendous value hidden in the platform if you just know how to use it. But you don't have to take my word for it, let me share a quick story.
Over the past several months we've continued to produce Marketing Tip Monday videos. Once we complete each video we distribute them in an attempt to get as many views as possible. Our distribution strategy relies heavily on email marketing and social media platforms such as Facebook and LinkedIn. As we continued to distribute the videos a trend emerged and surprised us! LinkedIn posts were achieving at least 4x more engagement than the exact same post on Facebook. That's the kind of engagement you need to grow your business! Here are the stats from each platform from the release of the video in this post.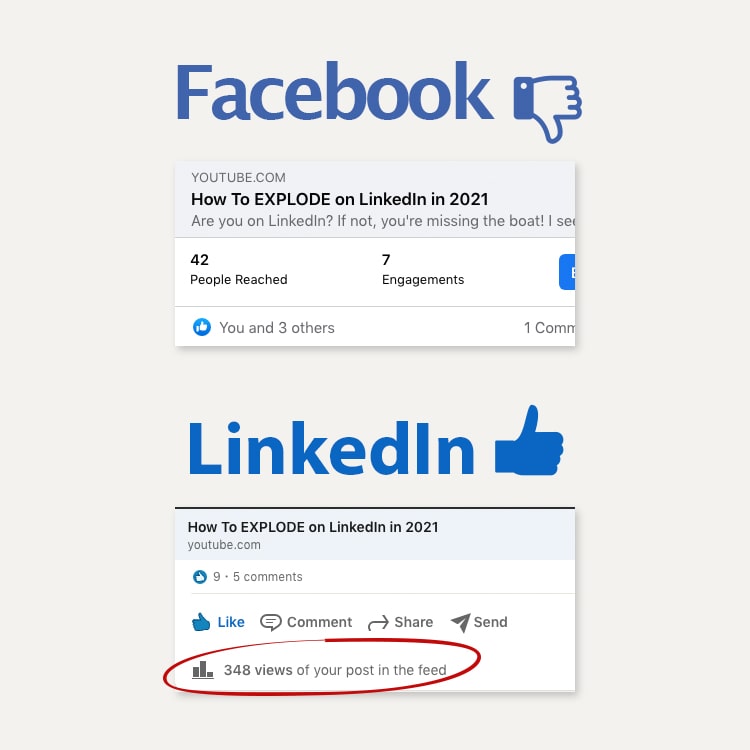 Step 1: Optimize Your Profiles
For the sake of this post, I'll assume you already have your personal profile and company page set up on LinkedIn. If you don't check out this article on the basics of LinkedIn, where we discuss doing just that.
First and foremost, all of your profiles should be optimized for keywords. For example, if you're a website designer, then "websites" and "website design" should show up on both your personal profile and company page.
It's also important that your profiles operate as mini sales pages and not just an informational page. When people look at your profiles they should be able to quickly understand what it is you do, and how you can help them. The content of those profiles needs to be valuable to your audience. This will optimize your profiles and give them a purpose.
Step 2: Build Connections on Your Personal Profile
LinkedIn thrives on connections and your success depends on you getting as many quality connections on your personal profile as possible. It's important not just for LinkedIn's algorithm, but for reasons we'll discuss in a bit. As you are browsing for people to connect with, make sure you are choosing relevant people. Either your target market or those that know or interact with your target market. Don't just connect with everyone! LinkedIn has limits and if you violate them, your inviting will be put to an untimely end.
Secret Tip: Invite Connections to Your Company Page
Remember those "reasons" I mentioned earlier? One of the biggest reasons you want to build quality connections is that you can invite those people directly to your company page. LinkedIn gives you 100 invite credits every month to invite your connections to follow your company page. There are some stipulations to this, however, most of these people will become followers and see the content you post down the road.
Step 3: Start Posting Useful Content
On LinkedIn, your content type and strategy should be pretty similar to other social platforms. In terms of frequency, think about your business and how often you can consistently reach out to your audience. At a minimum, I say once a week. But if you can do it daily, even better.  Remember, make sure every single piece of content brings your audience value. As you're creating content, think about what your audience will find interesting or educational and provide that.
As for the types of content, again, LinkedIn is similar to other platforms. Videos and unique graphics tend to perform the best. People love these types of content. They are simple and easy to digest. While links and plain text posts lag a bit behind.  If you want a successful strategy focus on posting videos and images consistently with well thought out post text and hashtags.
Pro Strategy Tip #1 – Participate on the Platform
At first, this may seem obvious. You may even think about not reading this section, but don't! This is the number one area where I see social strategies fall apart. You've already taken the time to create a profile and company page and you are posting content. But that's not enough! You can gain a ton of exposure for both of those pages by simply participating with other people's profiles and pages regularly. For example, if you see a post relevant to your business, comment on that post as your company page. Or maybe someone in your target market just announced a work anniversary. Congratulate them from your profile.
Just like with content creation, make sure your participation provides value. Your comments should bring something to the table. Even if that something is as simple as a compliment. No one likes a spammy profile or company page. If you don't provide value with your interactions you will ultimately be counterproductive to your strategy.
Pro Strategy Tip #2 – Create a Newsletter
In true MTM fashion, I saved the best tip for last! One of the newest features of LinkedIn is the ability to create a "newsletter". These newsletters are simply LinkedIn's version of a blog. If you haven't come across these on LinkedIn yet, you will soon.
It's important to create a unique newsletter for the industry that you're in. The newsletter feature, similar to your company page, allows other members the ability to subscribe to your content. Like this YouTube video/blog, if you subscribe you will be notified when new content is released. Meaning you now have a captive audience that will see every newsletter you post.
Speaking of posting your newsletter. Make sure you release them on a regular basis. At a minimum, once a month. If you can manage weekly or even daily releases, that's even better. Plenty of LinkedIn users have found success releasing regularly.
Equally as important, give your newsletter a great name and pick a specific topic. If your name stands out and your topics remain consistent, people will find your newsletter. Furthermore, it will provide a value they are willing to subscribe to. This means you'll be using newsletters like a pro.